12/09/2018 – The earliest origins of Santa Clause date back to a monk named St. Nicholas. St. Nicholas is said to be born around 280 A.D. near what we call Turkey. The legends state, he was so kind that he gave away all of his inheritance and wealth to help the poor and ill. He later became known as the protector of children.
St. Nicholas began popping up through out America during the 18th century. He was first mentioned in a New York newspaper, when it was reported that Dutch families had begun gathering to honor the anniversary of his death, December 6th. 
So how did St. Nicholas become Santa Claus? It came from his Dutch nickname, Sinter Klaas which as a shortened version of Sint Nikolaas. It wasn't until 1804, when one of the members of the New York Historical Society, John Pintard, created engraved wood cuts of St. Nicholas. These cuts contained images of the Santa we are all familiar with in current times, the cuts depicted Santa by stockings filled with toys and treats over a fireplace. 
Throughout the 1800s, stores began promoting shopping for Christmas and at times would feature Santa as Pintard had engraved him in 1804. By the
late 1800s, the Salvation Army began placing Santa's on the streets to solicit money for needy families. The Salvation Army Santa's image was most definitely different from any other Santa thus far.

During the 18th century, Santa was also known by many names, not just St. Nicholas or Santa Claus.

From the Swiss and German, we saw Kris Kringle. In Scandinavia, a jolly elf, Jultomten was a version of Santa and for the English, Father Christmas was said to visit homes on Christmas eve to fill children's stockings. There are so many variations of Santa and what he brings or fills with goodies. For example, French children wake to shoes filled with yummy treats!
In the 1920s, we began seeing Christmas advertisements for Coca-Cola with a more serious looking Santa Claus. The artist Fred Mizen painted Santa in a crowd drinking Coke, for an ad that featured the world's largest soda fountain that was located in the store Famous Barr Co., this painting was then used in many print ads during the Christmas season, even appearing in The Saturday Evening Post.
By 1994, we were graced with The Santa Clause movie with Tim Allen. This Christmas fantasy is a comedy about an ordinary man that causes Santa to fall off his roof, forcing him to become the new Santa. The image we saw in this movie was a more modern, round, and jolly version of what we saw in the Mizen painting. The movie grossed over $189 million worldwide, making it a box-office hit and a Christmas classic!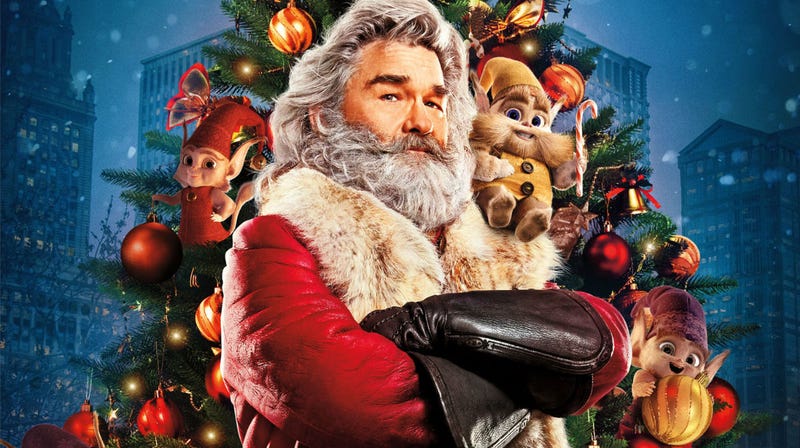 The most recent version of Santa came in the Netflix original film, The Christmas Chronicles, portrayed by Kurt Russell. This version of Santa wasn't what we are used to seeing.  Russell's Santa wasn't the typical 21st Century Santa, he was more rugged and definitely a hands on, working-man type of Santa. 
See Russell's actual statements about his character :
 You have to look at it from the point of view of the two kids. When they see Santa Claus, he should look like the iconic image but slightly different, more workman-like, more lumberjack-y, if you will. I always felt there was a little Captain Morgan to this guy, got a little pirate to him. And then I knew that we'd be doing a lot of stuff with wind and whatnot so it had to be my beard primarily. I thought that the minute you see this guy, you go, "Yeah, that's a real person."  – https://www.usatoday.com
What's your favorite version of Santa?! Let us know in the comments!