Don't let the holidays get you down…! But if they do mix up one of these yummy Christmas Cocktails!
Holiday Mule 

This is typically served in a copper mug, but can be served in anything.
1/2 oz simple syrup, 1/2 oz unsweetened cranberry juice, 1 1/2 oz gin or vodka,2 oz chilled ginger beer, 1 rosemary sprig, orange slice, for garnish, sugared cranberries, for garnish.
Combine simple syrup, cranberry juice, and gin. Pour over ice and top with ginger beer. Serve garnished with rosemary, orange wedge and sugared cranberries
Christmas Punch

Ice, 200ml (1/3pt) vodka, 200ml (1/3pt) cranberry juice, 200ml (1/3pt) clementine juice, 6 tsp brown sugar (optional), 300ml (1/2pt) soda water, 150g (5oz) fresh cranberries, small bunch fresh mint leaves.
Fill a large jug or punch bowl with the ice. Add the vodka, cranberry and clementine juice and stir to combine. If you want to add a little sweetness to this naturally sharp-tasting punch stir in the sugar and mix until dissolved.
Top with the soda water and garnish with the cranberries and mint leaves.
Candy Cane Cocktail


1 shot vanilla rum, 1 shot white chocolate liqueur , 1 shot peppermint schnapps, Candy cane garnish. 
Add all liquid ingredients to cocktail shaker filled with ice. Shake well and strain into martini glass. Garnish with candy cane.
This one is bound to be a hit at any holiday gathering this season!
Rudolph the Red-Nosed Cocktail


2 oz. clove infused Genever, 1 oz. fresh pressed cranberry, .75 oz. of peppermint syrup, Splash of citrus juice, 4 dashes cardamom bitters.
Shaken in a Boston shaker and fine strained into a low ball and garnished with sage, candied citrus and a small pine cone.
Not only will this drink be a hit, but it's so beautiful!
Santa Hat Jello Shot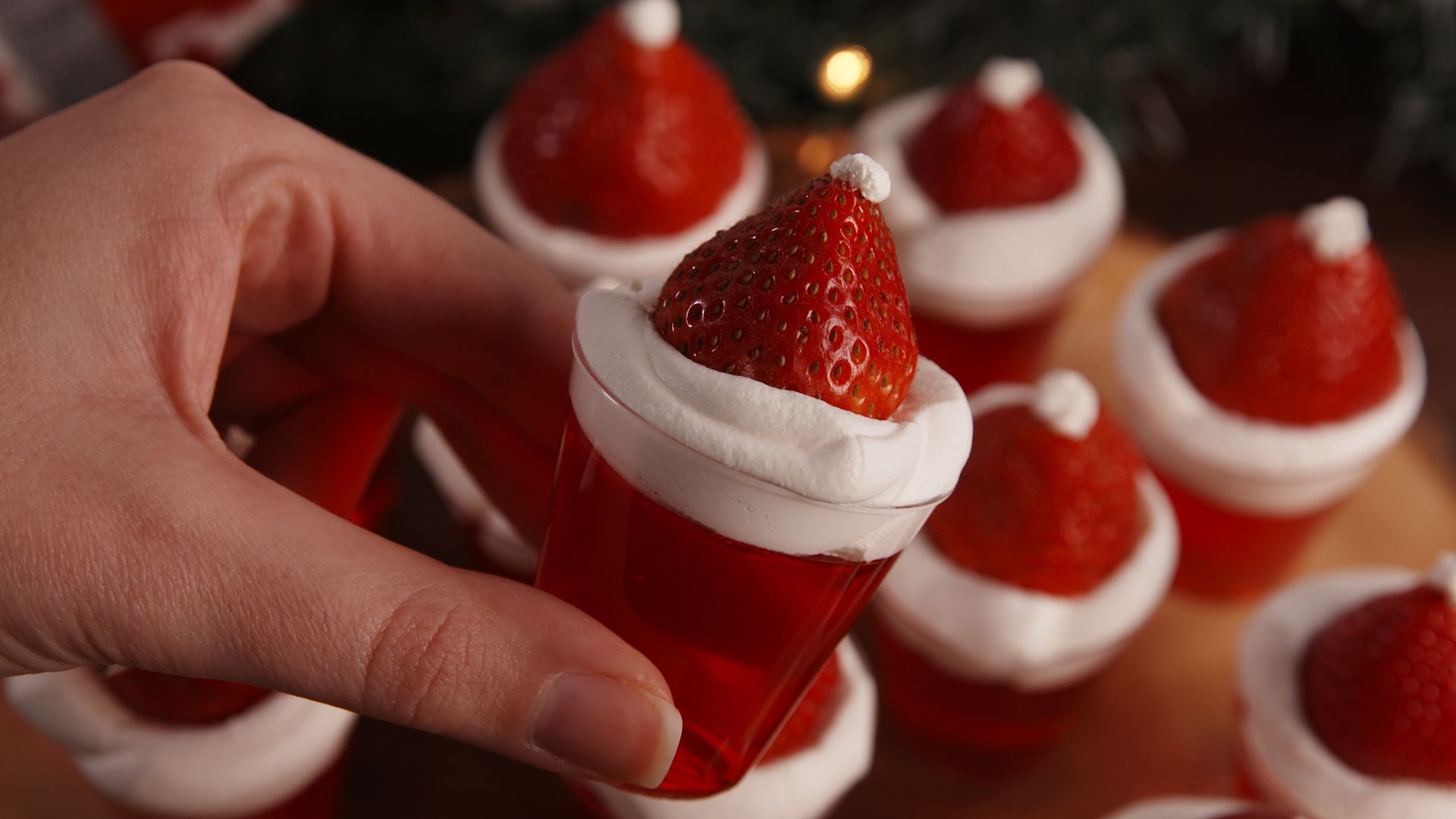 1 1/4 c. water, 3/4 c. vodka, 1 package strawberry jell-o (3-oz), 1 container Cool Whip, thawed, 1 pint strawberries, hulled.
Pour water into small saucepan and bring to a boil. Once boiling, remove from heat and add Jell-o packet, stirring until dissolved. Add vodka. Pour into plastic shot glasses and refrigerate until set, about 1 hour. Top with a dollop of Cool Whip, then place a strawberry on top, pointed-end up. Top with a small dot of whipped cream, to resemble Santa's hat.